Saturday 01 June 2019

North Island Credit Union Amphitheatre
Brad Paisley, Chris Lane & Riley Green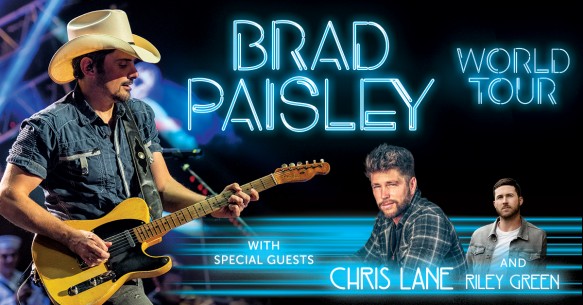 Brad Paisley is coming to the North Island Credit Union Amphitheatre (Formerly the Mattress Firm Amphitheatre) for his 2019 World Tour on Saturday June 1 and will be joined by rising talents Chris Lane and Riley Green.
Brad Paisley's latest single, Bucked Off, is currently inside the Top 25 on Billboard's Country Airplay radio chart.
Chris Lane's romantically charged I Don't Know About You follows a trio of Top 10 radio hits Fix, For Her and Take Back Home Girl.
Riley Green's debut single, "Here Was This Girl, is currently just outside the Top 10 of country radio songs.
Brad Paisley is known for selling out stadiums, including shows at the Intrust Bank Arena in Kansas, shows in New Mexico and most of his 2018 Weekend Warrior World Tour!
Tickets for the Brad Paisley 2019 World Tour at the North Island Credit Union Amphitheatre are already selling fast and it is part of the Country MegaTicket so make sure to buy yours now whilst they are still available.
If tickets for the single show are sold out, you might still be able to buy a Country Megaticket here.