Friday 14 June 2019

North Island Credit Union Amphitheatre
Train, Goo Goo Dolls & Allen Stone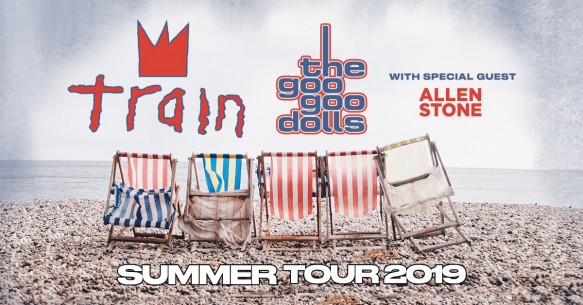 Train and The Goo Goo Dolls are coming to the North Island Credit Union Amphitheatre for their Summer Tour 2019 with special guest Allen Stone on Friday June 14.
Train achieved mainstream success with their debut album Train, which was released in 1998 with the hit "Meet Virginia". Train's 2001 album, Drops of Jupiter contained the lead single "Drops of Jupiter (Tell Me)", which won two Grammy Awards in 2002. The album was certified double platinum in the United States and Canada and remains the band's best-selling album to date.
The Goo Goo Dolls formed in 1986 and are renowned for their single Iris. The Goo Goo Dolls have had 19 top ten singles on various charts and have sold more than 12 million albums worldwide.
Last year The Goo Goo Dolls toured celebrating the 20th anniversary of their biggest-selling album, Dizzy Up the Girl, which resulted in several sold out shows including Phoenix.
Tickets for Train and The Goo Goo Dolls are limited and in high demand, make sure to buy your tickets NOW before they sell out.